Say goodbye to sweat stains & shirt changes with miraDry at Four Seasons OBGYN
Professional Hyperhydrosis Treatment in San Antonio
Wondering how to stop armpit sweat?
Four Seasons is proud to be a miraDry provider and change the lives of those who suffer from hyperhydrosis.
Hyperhydrosis is used to describe excessive underarm sweating. While it is normal to sweat, excessive armpit sweating caused by hyperhydrosis can be embarrassing, smelly, uncomfortable, and can cause sweat stains that ruin clothing.
MiraDry is one of the best treatments for reduction of underarm sweat!
What is a miraDry treatment?
A miraDry treatment is a solution to safely and effectively reduce or even eliminate underarm sweating.
It is a one-off solution in which all overactive sweat glands are turned off by sound waves.
A miraDry treatment is therefore not an operation, but an efficient procedure to reduce sweat that does not require recovery time!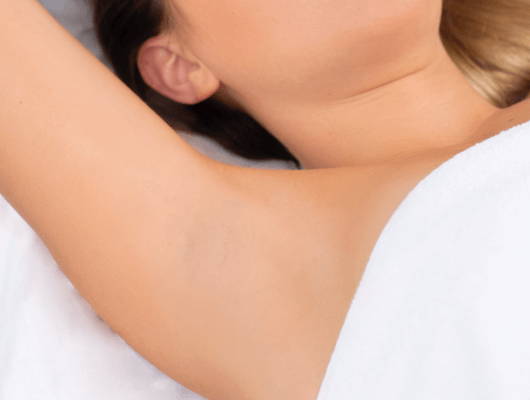 Prior to the beginning of the miraDry procedure, your miraDry specialist will numb the treatment area with local anesthesia for maximum comfort.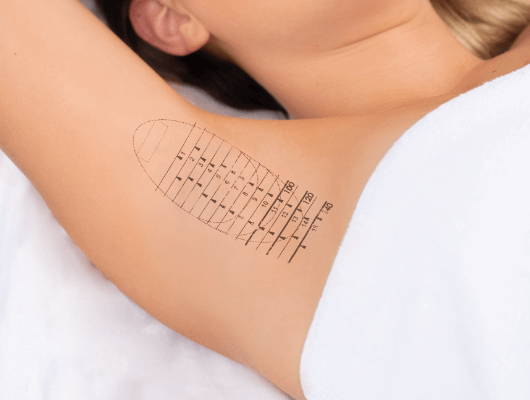 A temporary marker is placed on the skin to guide the treatment.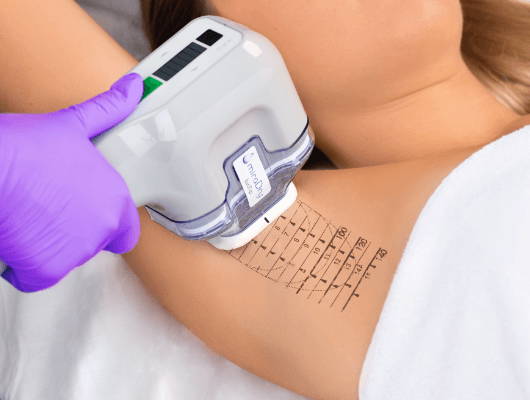 The miraDry hand piece follows the guidelines placed on the skin to deliver thermal energy that creates heat to eliminate odor and sweat glands  
How does a miraDry treatment work?
CELEBRATE BEING SWEAT FREE WITH FOUR SEASONS OBGYN
During a miraDry treatment, thermal energy is sent into the skin. This energy bounces off the subcutaneous fat tissue, so that it goes out again. It then meets new incoming energy waves, which causes interference. This is exactly where the sweat glands and armpit hairs are located, and they absorb this disturbance and break down as a result.
In most cases one or two miraDry treatments are required. During the first miraDry treatment, 90% of all underarm sweat glands are switched off. This is sufficient for approximately 85% of patients.
Start your sweat free journey with Four Seasons OBGYN!
Solution for smelly and wet armpits
Many other treatments against excessive sweating offer a solution for only smelly or wet armpits.
The miraDry treatment offers the solution against both symptoms. This is because both the apocrine and eccrine sweat glands are turned off.
There are no side effects.
The miraDry treatment has no adverse side effects. All you will experience after the treatment is swelling and redness in the treated area.
Because a local numbing agent is used, the numb feeling will persist for a few hours after the treatment.
Only 1 or 2 treatments are needed
Where many other Hyperhidrosis treatments are only temporary in nature, miraDry is a permanent solution.
After just one or two treatments, the armpit sweating will decrease or even disappear completely.
The effects are permanent
Wondering how to stop underarm sweating permanently? The miraDry treatment permanently eliminates the sweat and odor glands in the underarm. MiraDry achieves sweat gland removal, making the effects of the treatment permanent.
It has even been clinically proven that the miraDry treatment achieves an average of 82% sweat and 89% odor reduction.
Results may vary as some patients respond well to just one treatment, while others may need an additional treatment.
Best solution against (smelly) armpit sweat
By permanently destroying odor and sweat glands, miraDry is successful in delivering incredible results that reduce underarm sweat and odor in as little as 2 treatments.
What does a typical miraDry treatment look like?
All our treatments start with a consultation. During this introductory meeting we will discuss your concerns and all excessive sweating treatments.
If miraDry is able to treat your concerns, one of our miraDry specialists will choose the right treatment option for you and will schedule an appointment for your first treatment. All costs and pricing plan availability are discussed during the consultation with Four Seasons OBGYN.
It is important that you shave both underarms 4 to 6 days before the treatment. So there will be minimal hair growth in the treatment area during the treatment. If you have forgotten to shave your underarm hair, we will take care of this. It is also recommended that you wear comfortable loose-fitting clothing or a tank top for the treatment.
The first step in the actual treatment process is determining the treatment area. During the treatment you will lie on a chair with your arms positioned above your head. Your miraDry specialist will first determine the area to be treated and mark it using a guide. The marked treatment area is then numbed with local anesthesia. As soon as your skin is numbed, the miraDry treatment handpiece will be placed on your armpit and your specialist will start the treatment, following the guidelines. The treatment takes about 90 minutes. The treatment is painless.
Step 4: After the treatment
Once the treatment is finished, swelling and redness may occur. You will receive a cold pack from us to immediately counteract the first swelling. It is normal for the armpits to feel numb for several hours after the treatment; this can also be felt in the arms. After 48 hours the side effects should subside.
Want to learn more about miraDry? Let us know!
Frequently Asked Questions about miraDry:
Q: Can the sweat glands under my armpit be broken down?
A: A body has sweat glands to cool itself. In total, the body has nearly 4 million sweat glands, however, only 4% of this is in the armpits. This 4% is distributed over the remaining sweat glands, so it has no effect on the cooling of the body. And because 4% is such a small percentage, it won't make a noticeable difference to the rest of the body.
A: Yes, the miraDry procedure has been officially approved by the FDA (Food and Drug Administration) as effective methods of reducing underarm sweating.
Q: Is the miraDry treatment painful?
A: You will be numbed by us so that you will not experience pain. You may sometimes feel warmth during the treatment. You may, however, experience symptoms such as swelling, redness and tenderness of the treated area after the mira Dry treatment.
Q: How long can I not work and / or exercise after the miraDry treatment?
A: Most people experience hardly any side effects, so there is no downtime. This means that in most cases you can get back to work immediately and pick up your daily activities. However, we do recommend that you only exercise or exercise intensively again after one week.
Q: How much does miraDry cost?
A: The cost of your miraDry treatment will be determined by your specialist during your consultation. Pricing is mainly affected when there is need for an additional miraDry treatment.